Ticking off the Wishlist, Cockle Bay
My clients who enjoy cooking and entertaining had purchased a large freestanding cooker which we decided should become the focal point of the kitchen.  Another important request from my clients was to bring the freezer which is the matching pair of their fridge/freezer from the garage into their new kitchen.
There were major structural limitations with beams and pillars which could not be moved, hence the shape of the kitchen which is long and narrow had to remain. The existing door from the hallway was closed off and this created extra wall space for a large pantry. Because of the limited space between tall cabinetry and the bench opposite we installed pocket doors to the pantry enabling it to be accessible during food preparation and cooking.
A combination of satin lacquer, timber, frosted glass and engineered stone suits the contemporary style of their home and the black glass backsplash reflects the view from the deck outside and also compliments the black freestanding cooker.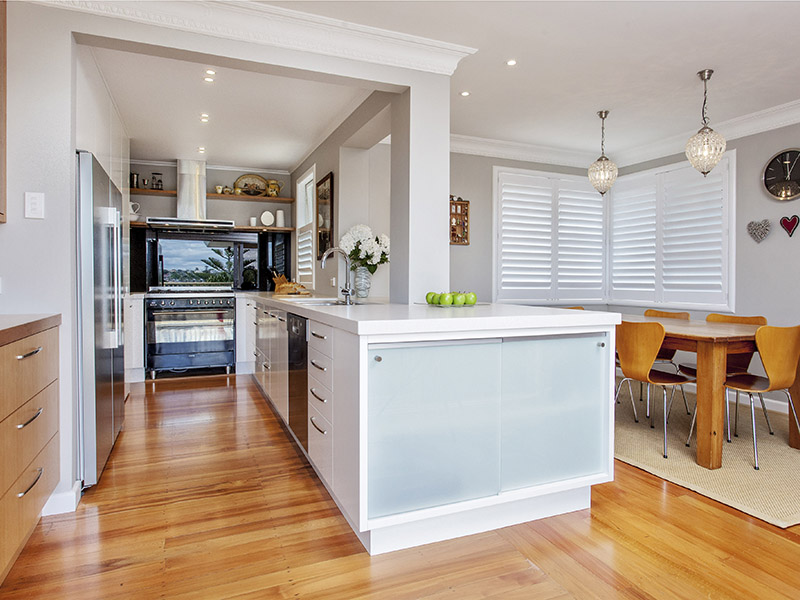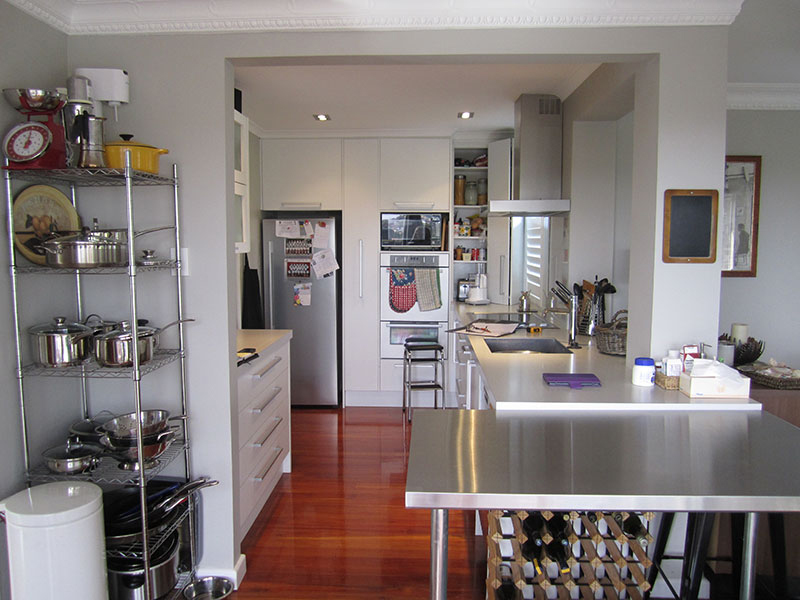 What the customer has to say
When we first approached Nicola we had a very definite design for our kitchen in mind. Whilst Nicola drew this she also provided an alternative option for us to consider. This was so clearly a better way to proceed that we quickly abandoned our original plan and went with her design. Nicola incorporated all our requirements and came up with a design that made the best use of the somewhat tricky space available.

Our new kitchen delivers all the things on our wishlist. It has loads of storage and working space (both lacking in our previous kitchen) and punches above its weight in terms of floor space available. Nicola is very approachable and listened to and incorporated our ideas into the kitchen, whilst adding her design flair and experience. It still feels very much like 'our kitchen' that reflects our style and practical needs, but Nicola has enhanced the space and incorporated some really practical and functional features. She was always calm and things were sorted with no bother. She kept in touch with us and we always knew what was happening through-out the design and installation process.

We now have a kitchen that is a real pleasure to work in. There is a place for everything and the storage and other features all have purpose and work seamlessly. The kitchen looks exactly as we hoped it would and suits our house perfectly. We would have no hesitation in recommending Nicola.
Every project begins with an in-depth briefing held at the site to be developed. This important step ensures Nicola understands your specific needs and goals before the creative process begins.