A Nod to Nature, Matakana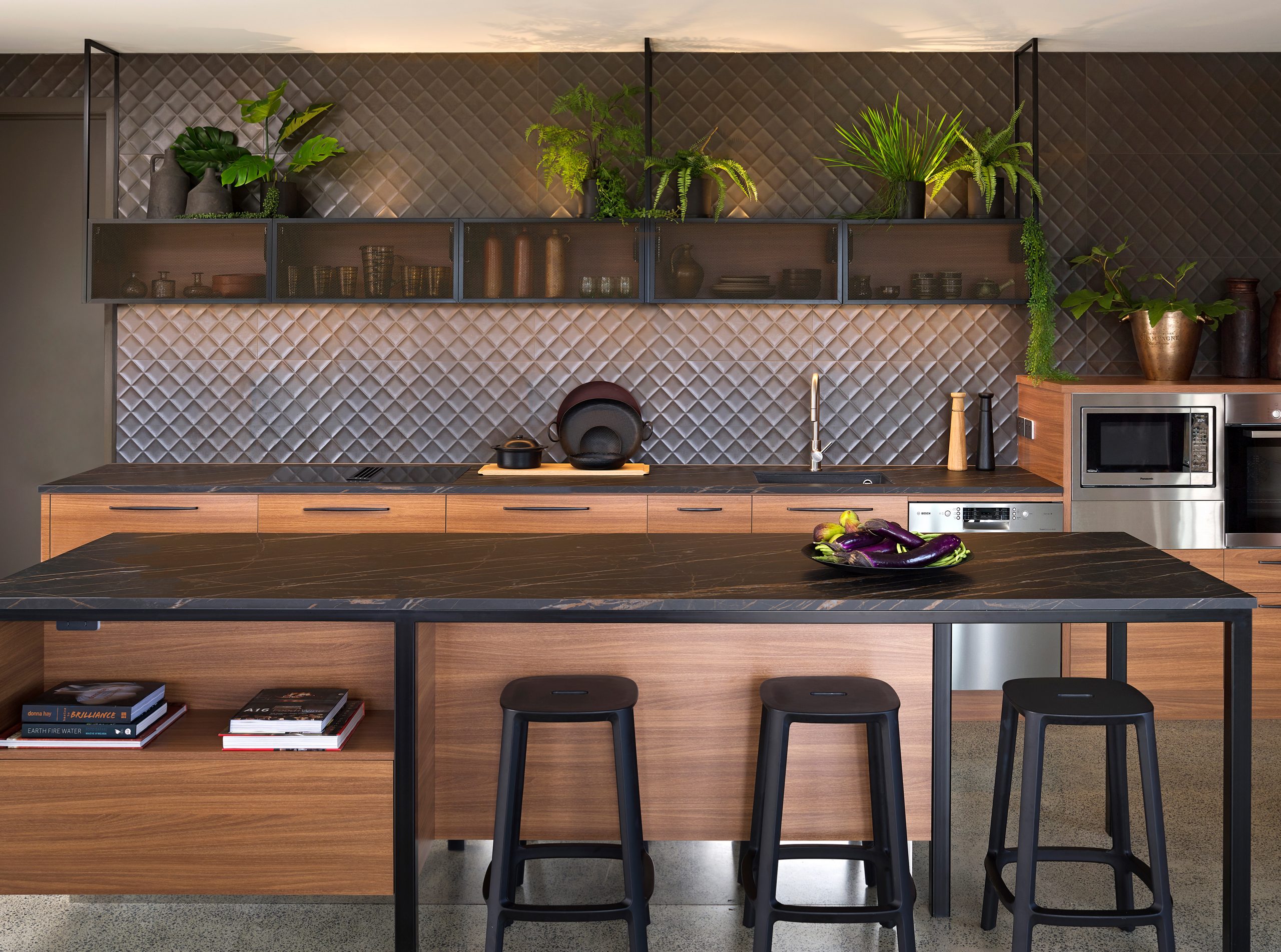 Kwee and Paul purchased this rural property some years ago with the intention of their future retirement in mind.
The barn was built to house tractors, a boat and farm equipment plus space for hay bales. Included into the structure was to be accommodation for family and guests to stay casually. The clients wanted a practical, yet simple kitchen with a touch of glamour.
To embrace the barn's aesthetics, a dark, soft-industrial look fitted perfectly. A strong emphasis was put on the materials used to ensure the kitchen was hardwearing but also a warm and inviting place to entertain guests. The island was designed for casual dining for up to five people.
The native bush environment and rustic building exterior was carried through into the look and feel of the kitchen by utilising woodgrain melamine and black aluminium framed doors with bronze mesh inserts. The design cues continued through to the benchtops which generate warmth with their tan veins dispersed across the porcelain counters
To separate the long bench, located on the rear wall, the ovens were lifted to eye level for ease of use creating a raised display area. The up-lights add vibrancy and ambiance, creating a dramatic effect on the ceiling and highlight the native plantings, connecting the interior with the native bush.
The combination of timber, porcelain, black steel and bronze mesh worked seamlessly to create the desired impact.
What the customer has to say
Our brief to Nicola was for a kitchen that suited our new build, a large shed in a paddock surrounded by native bush.

The interiors were to be dark, industrial and with a bit of glamour. It was to be different from the contemporary suburban kitchen and living space she had designed for us some years earlier.

Nicola's initial concept plan was right on track. The combination of wood, black steel and mesh were perfect for the look we wished to achieve. The hanging cupboards were immediately recognised as a way of bringing the nature outside, in.

Having worked with Nicola before we knew the kitchen would function well so the challenge was to retain what we liked about the look within cabinetry building constraints and products available, the stage she calls a process and evolution.

We love all aspects of our kitchen especially the way ambient and installed lighting changes the look throughout the day and night.
Every project begins with an in-depth briefing held at the site to be developed. This important step ensures Nicola understands your specific needs and goals before the creative process begins.