Functional Beauty, Long Bay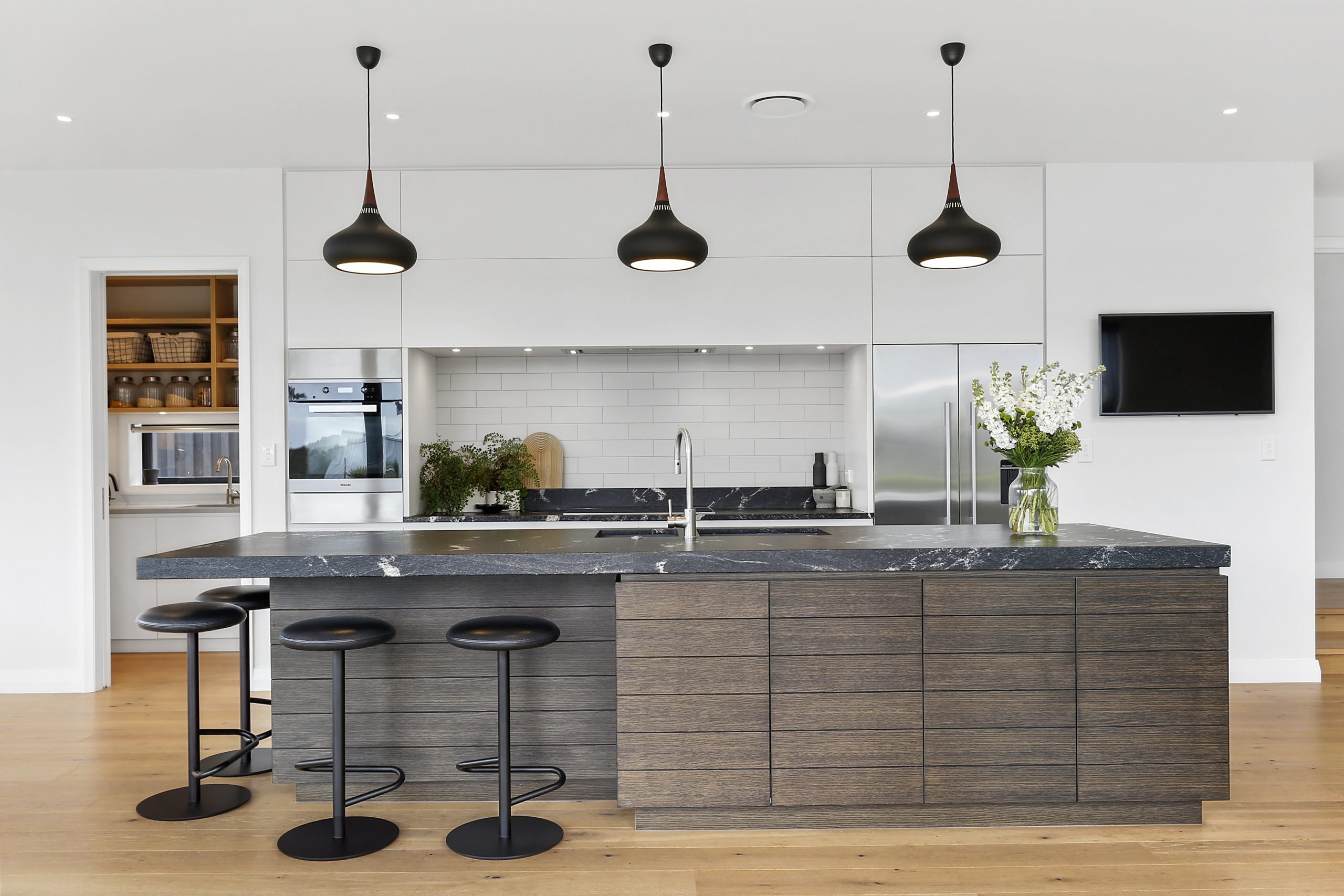 As well as being a destination in itself, the kitchen in Jude and Richard's new home is a hub that connects multiple living spaces and the outdoor courtyard, whilst making the most of the home's bright outlook.
It was a privilege to be involved in the project while the house was still in the planning stages as this provided an opportunity to understand the client's goals for their finished kitchen and ensure these would be possible by liaising with the architect in respect of the kitchen's footprint.
It was important to the client to have very clean lines with cabinetry and appliances sitting flush. Appliances were chosen early which meant they could be factored into the design to help achieve the desired look.
A scullery was included in the design to provide ample storage and preparation space, as well as house small appliances, helping to keep the kitchen area clutter free.
Dark stained oak and horizontal grooves on the central island provide colour and texture, a stunning contrast to the neutral cabinetry on the rear wall. To finish the look, a feature was made of the island benchtop, a chunky piece of granite with a white vein and leathered texture, which is complemented by the trio of black pendant lights hanging above it. A granite ledge in the cooking area has the combined effect of linking to the benchtop and providing additional storage or display space.
What the customer has to say
We engaged Nicola to design the kitchen and scullery for our new home on the North Shore. Throughout the process Nicola showed an unfailing commitment to our project and to us as clients. She patiently worked with us on our ideas and honestly shared her opinion and feedback. Nicola was incredibly methodical and her attention to every element of our plans was meticulous. Her involvement in the early stages of our build meant any issues affecting the kitchen dimensions were identified early and resolved easily.

Nicola brought our plans to life through her well established manufacturing and supplier relationships. She ensured quality, in terms of the materials and final product, was never compromised. We have an incredibly functional kitchen that is a real pleasure to be in. It is also a kitchen that visually complements the open plan design of our house.

Nicola always delivered on time and with full communication throughout the project. We thoroughly enjoyed working with Nicola and would be delighted to work with her again should the opportunity arise.
Every project begins with an in-depth briefing held at the site to be developed. This important step ensures Nicola understands your specific needs and goals before the creative process begins.