Clean and Contemporary, St Heliers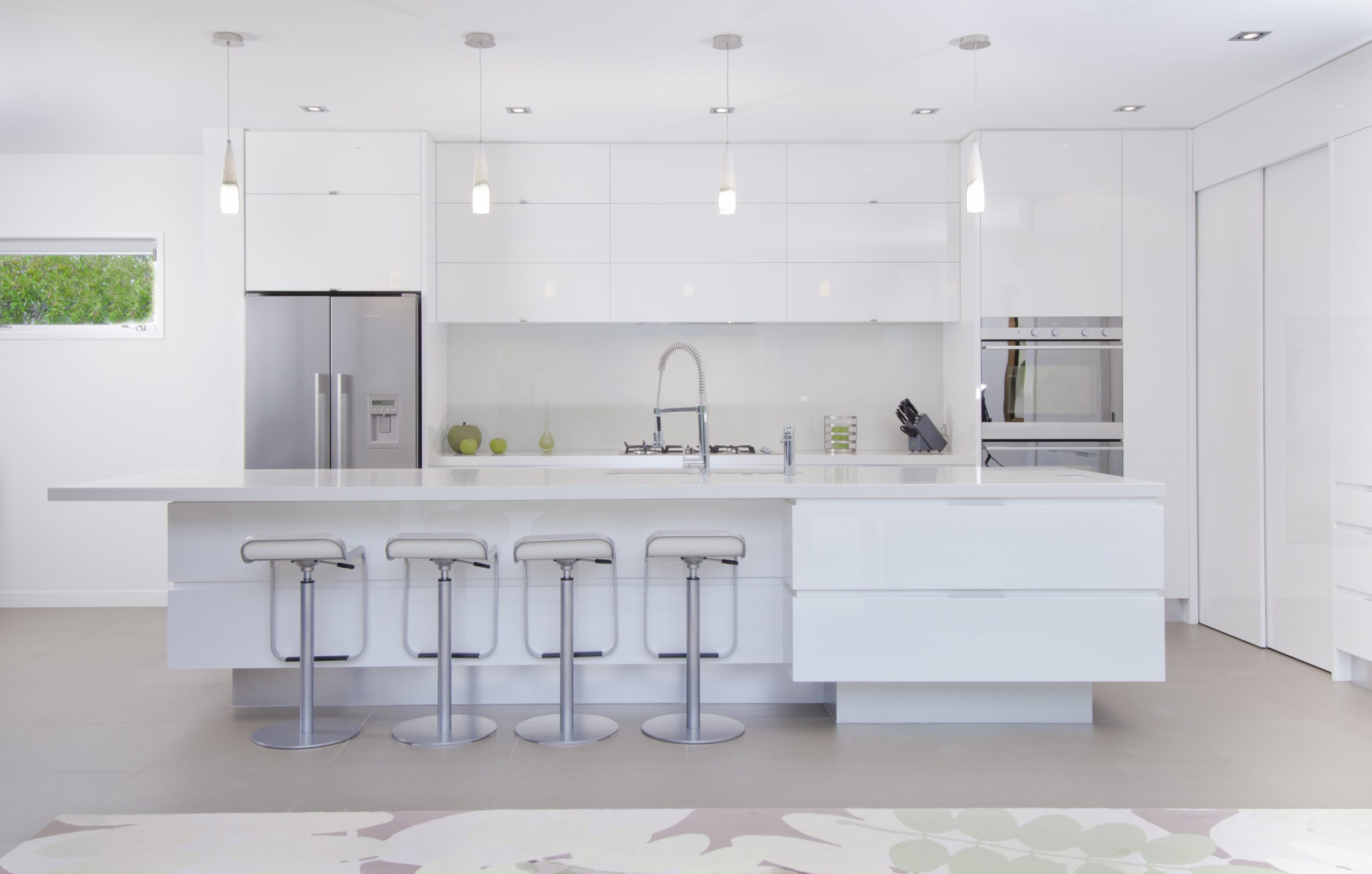 A large, modern, practical kitchen with good storage and in particular a large pantry that could be worked in were the main requirements for my clients' new home.  It was also a priority to have a large island for the family of four to have casual meals.
Large sliding doors were the most practical solution to access the pantry which extended into the corner with a separate appliance cupboard housing the microwave to the right of the pantry.
Engineered stone benchtops and gloss lacquer to cabinets allow for easy maintenance, while a handle-free look complemented the contemporary design.
What the customer has to say
I would like to take this opportunity to express our thanks to Nicola for the wonderful job she did for us in making sure our Kitchen in our new home was what we wanted and expected.

After having some concept plans of the kitchen drawn up by our Architect, as part of our new home plans, I sat down with Nicola to work out what design and plan would best suit our needs and look good at the same time. She was very thorough on knowing what works best in a kitchen layout and listened to what our requirements were.

The style and finish of the Cabinetry was a very important part for me and the results we achieved were excellent. Nicola was very accommodating to find the particular handles that I wanted for the cabinetry and her suggesting to have a White Gloss Laquer finish, was the best decision I made. I was also mindful of having a certain finish on the cabinetry, so that look would be timeless and not date quickly. Which I think we have achieved .

Our kitchen is very much the focal point in our living spaces and after always wanting a large kitchen, with a large island for everyone to sit around, that is what we got, thanks to Nicola.

We love our kitchen and would not hesitate to ask Nicola again in the future, for her help and expertise to design another kitchen.
Every project begins with an in-depth briefing held at the site to be developed. This important step ensures Nicola understands your specific needs and goals before the creative process begins.