Amazing Space, Bucklands Beach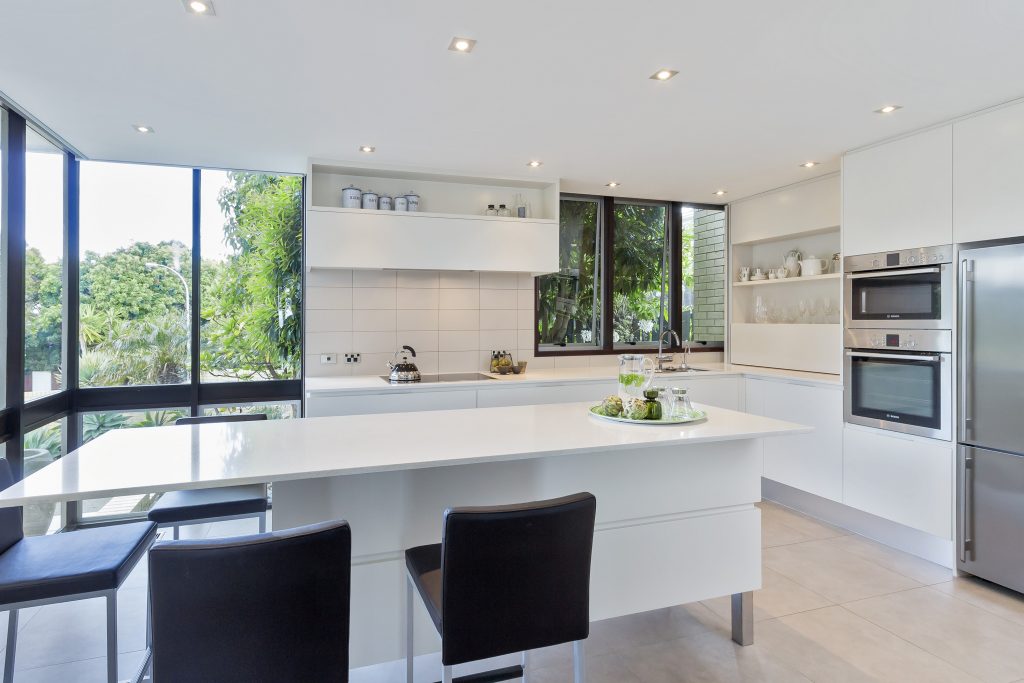 The brief was to design a contemporary style kitchen and adjacent laundry to complement a 1970s architecturally designed home.  The clients, who entertain often, required a space where 2-3 people could work at one time, with ample bench space for food preparation.
The constraints in this kitchen were the floor to ceiling windows on 2 walls which could not be built over or blocked as they are visible from the formal entrance.
Balance and proportion needed to be created as all the appliances and tall cabinetry were confined to one wall.  This was achieved by offsetting the island which was also set on legs to create a floating and more spacious feel.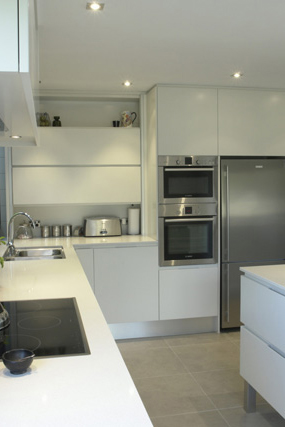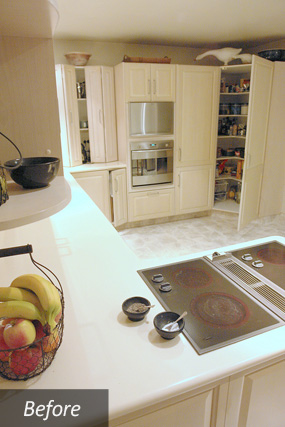 What the customer has to say
Nicola, like so many highly capable designers prefers pencil when developing her designs. Being from design backgrounds ourselves we naturally expected our kitchen designer to come up with ideas a step ahead of those which we ourselves might think of.

Our brief was for a design that gave plenty of space for three people to prepare food and ample space for laying out a large buffet. These requirements turned out to be a challenge, particularly as our existing kitchen features windows on two walls, some floor to ceiling, which appeared to limit design options. A further requirement was for a contemporary design with visual impact to blend with the character of our architect-designed '70s home.

Nicola was resourceful and responsive to all the points we raised which made for productive and enjoyable sessions all along. The design we agreed features a generous island unit that we at first thought there was insufficient space for, but following Nicola's calm insistence, we went ahead and are thrilled to this day how workable it is. Our visitors gasp at the sheer clean lines, and three years on we are still enjoying how well the entire space functions.
Every project begins with an in-depth briefing held at the site to be developed. This important step ensures Nicola understands your specific needs and goals before the creative process begins.